The Motorcycle Licence
[includes test required to get your licence - NZTA approved]

To ride a motorcycle on the road you need a Class 6 (motorcycle) licence.
Riding requires skills that you can only gain via time spent on a motorcycle. For this reason you cannot legally ride a motorcycle on the road using a car driver licence.
You must be at least 16 years old before you can apply for a motorcycle licence.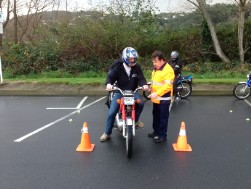 WE CAN SUPPLY THE BIKE
Previous riding experience is not required
All applicants must wear a safety approved helmet, gloves,good footwear (preferably boots), a jacket and trousers (no shorts or tee shirts).
A helmet & gloves can be provided by us if necessary. (please request in advance.)

Course Location & Time

Held at the South end of the Riverside carpark, next to Ewen Bridge, Lower Hutt.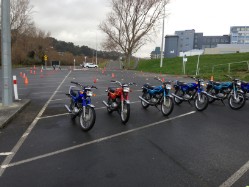 Wet or fine, every Sunday, 8.00am - 12.00pm.

It all starts with participating successfully in a Basic Skills course. The whole licensing process is well explained on the NZTA website. Click here to go to that Government site.

Our competitive rates:-
With your own bike
(must be in good mechanical condition, including silencing)


$195.00


With our bike inclusive of motorcycle hire and helmet


$250.00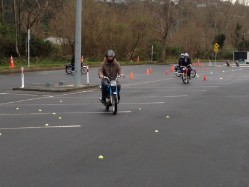 Basic Handling Skills Test

Before you can apply for a learner licence you must first pass a 'Basic Handling Skills Test' conducted by an approved motorcycle riding instructor or an approved testing officer.

Before your test you can practise basic motorcycle handling skills on your own private property or at a motorcycle training school.

The basic handling skills test requirements are well documented at NZTA Website - click here to see the details.

Stage 1 - Learner licence

Once you have your Basic Handling Skills Test certificate you can apply for a motorcycle learner licence.
You'll need to:
fill out an application form at your local driver licensing agent
produce your Basic Handling Skills Test certificate
produce two forms of identification – one can be your birth certificate, passport or other proof of your identity and age and the other must show your current address
pay the appropriate fees for the test and the learner licence application
pass an eyesight screening check
provide a signature
have your photograph taken
pass a written theory test.

The Road Code provides all the information you need when preparing for the test and practice questions. You must correctly answer 32 of the 35 questions in the test to pass. You can use a reader to assist you with the test if you have difficulty reading.

Once you pass the test you'll be given a temporary licence, valid for 21 days, to use until you receive your learner licence in the mail. Your learner licence should arrive within 1 to 2 weeks.